Avionics is the umbrella term for all electrical equipment used in aviation and spacecraft. An avionics technician works directly with these electronics and is responsible for maintaining, troubleshooting, and repairing avionics equipment. A quality set of tools is necessary for quality avionics work! Although the tools an avionics technician needs differ from job to job, all avionics technicians should have access to a basic set of tools for general aviation work, including:
Screwdrivers and Other Common Hand Tools
Some new avionics technicians may have avionics-suitable tools without even realizing it! A core part of the standard avionics toolkit should have a collection of screwdrivers, pliers, and ¼ drive tools in a variety of sizes. Because the tools are so widely used in all sorts of machinery, it is a safe assumption that an avionics job will need them.
Soldering Iron
Working with avionics systems requires experience with soldering. Soldering work ranges in scope from soldering small PCB pads to repairing large cables and connectors. Avionics technicians should always be prepared with a capable soldering station from trusted brands like Weller or Hakko. Features to look for in a soldering station include:
– Adjustable temperature levels
– Good heat conductivity
– Compatibility with many styles of soldering tips
Multimeter
A multimeter, a tool used to measure electrical values, is one of the most common diagnostic tools in electronics work. Multimeters typically measure voltage, continuity, and resistance. While multimeters can be as cheap as a few dollars, it may be worth purchasing a more expensive model if a job requires highly accurate readings. Key features to look for in a multimeter are a bright display, high input impedance, and precision in measurement.
Heat Gun
A quality heat gun is essential to an avionics workbench! This simple tool can be used in many common applications such as shrink wrapping, solder splicing, bending plastic, removing paint, and breaking tough materials.
Wire Cutters and Crimpers
Avionics professionals will frequently find themselves working with wires. Like other tools, the size of crimpers and wire cutters depends on the scope of the work. When purchasing wire cutters, consider the cutting capacity, blade material, and insulation of the tool!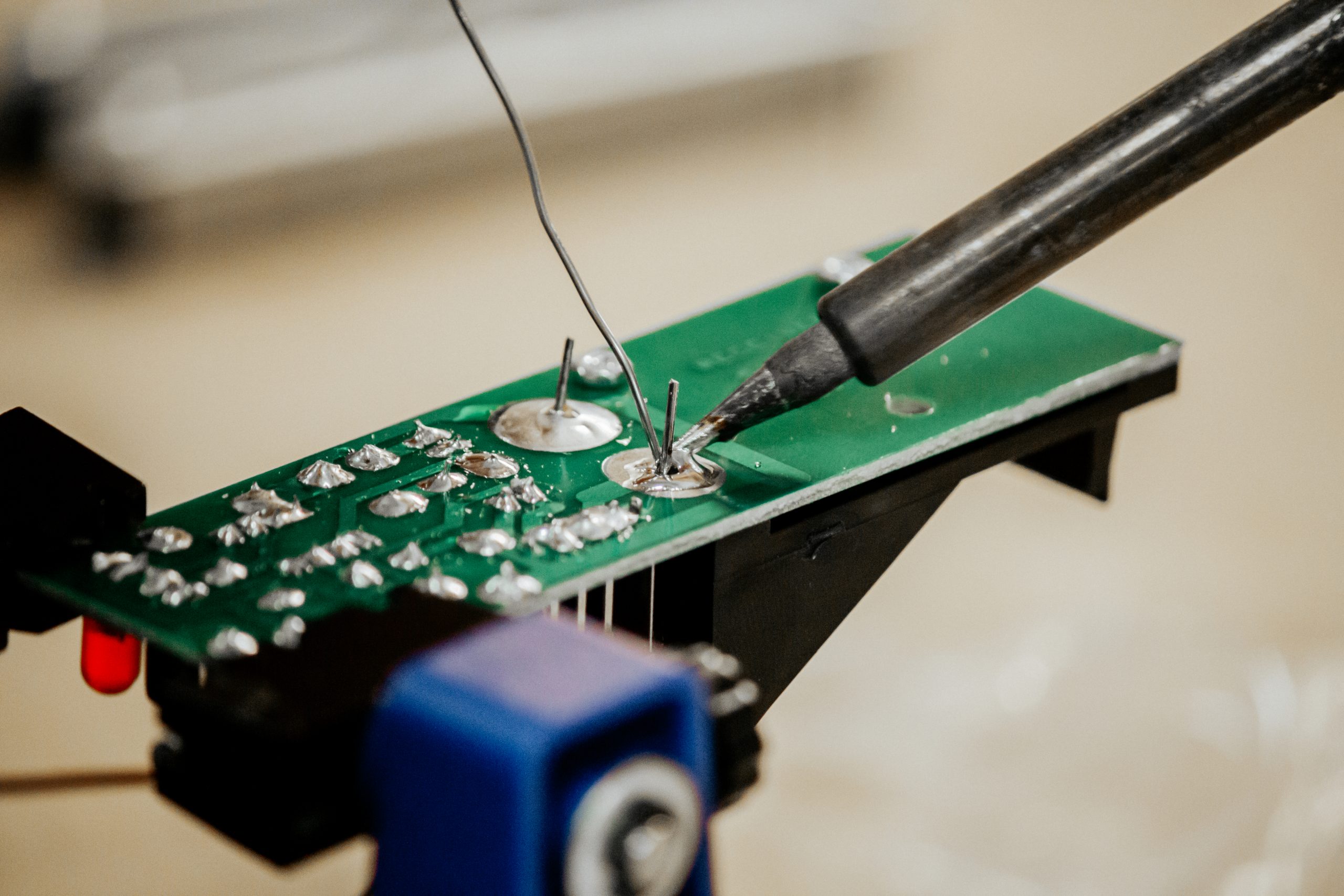 Soldering is a key skill for avionics work.
What Other Avionics Tools May I Need?
Proper storage for tools can help with convenience, organization, and tool lifespan. Additionally, safety gear like goggles, soldering fans, and earplugs should always be accessible.
Avionics work can range wildly in size and scope depending on the section of the industry. In many cases, a technician will only be sure of the tools they will genuinely need after working on the job! For example, a technician that works on regional aircraft may use tools that a commercial aviation technician will never see, and vice-versa. When considering job-specific tools, a technician should consult their employer and supervisors, unlike the ones listed above.
Interested in Avionics Training?
NAA's 21-month Aviation Maintenance Professional (AMP) program covers all subjects needed for Federal Airframe & Powerplant Licenses and Avionics Certificates. These credentials enable a technician to service the body, engines, and technologies of aircraft!
Fill out the form below to connect with National Aviation Academy and learn more about aircraft maintenance training. If you're ready, apply now to get started on a new career!