14-Month Program
Aviation Maintenance Technology
HANDS-ON TRAINING FOR LIMITLESS CAREERS IN AVIATION MAINTENANCE
PROGRAM OVERVIEW
Aviation Maintenance Technology (AMT) is National Aviation Academy's core Airframe and Powerplant (A&P) program. If you're looking to enter the aviation maintenance industry FAST, this is your program! In as little as 14 months (and 2,000 clock hours), you'll train on 45 FAA-mandated subjects. The Federal Aviation Administration (FAA) has strict guidelines on the curriculum for AMT schools' General, Powerplant, and Airframe courses.
Undoubtedly, this is a lot of information! However, our programs allow students to move through the curriculum with ease, starting from the basics to more advanced topics!
What are A&P Certifications?
Airframe and Powerplant (A&P) certificates are issued by the Federal Aviation Administration (FAA) to qualified aircraft maintenance technicians. They are what allows an individual to work on, maintain, and fix aircraft.
How Long Does it Take?
NAA offers a 14-month path to certification, with Career Services assistance upon completion! Our FAA-approved training, constantly evolving training tools, and culture supports growth and excellence.
Where Can I Work?
Upon completion of the Aviation Maintenance Technology program and certification, you can work in various sectors of aviation. These include commercial, corporate, and general aviation. You could also work on helicopters, airships, or unmanned aerial vehicles. Manufacturing, aerospace, and other parallel industries are exciting options as well.
Aviation Maintenance Technology Curriculum Summary
General
In the General curriculum, we set the foundation of your aviation maintenance education with subjects like aircraft drawings, weight & balance, safety wiring, and more.
Airframe
In the airframe curriculum, we present the ins and outs of the body of an aircraft with subjects like airframe electrical, sheet metal structures, airframe fuel systems, and more.
Powerplant
In the powerplant curriculum, we layout the differences in engines and how they operate with subjects like turbine engines, reciprocating engines, engine electrical, and more.
Aviation Maintenance Technicians Needed Worldwide According to Boeing
By 2031, 2 Out Of Every 5 (40%) Current Mechanics (90,000 in total) Will Reach Retirement Age According to ATEC
Average Daily Worldwide Flights in 2019 According to Flight Radar 24
Ready to take the next step?
The Value of an Aviation Mechanic Education
Hear from Darrel Stern of Embraer about the in-demand industry of aviation maintenance.
Students who complete the Aviation Maintenance Technology program at NAA can find careers in all corners of the aviation industry.
David P.
JBI Helicopters
New England Campus – 2017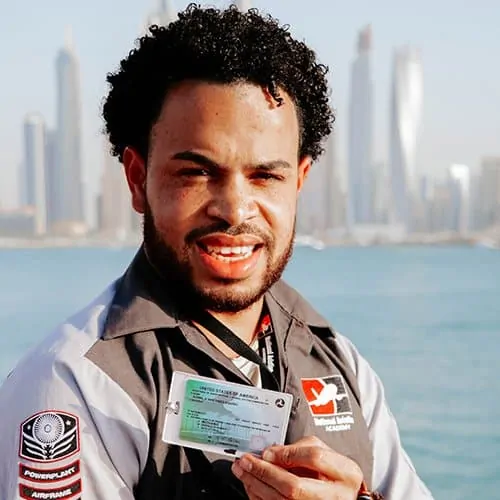 Adimil M.
Global Aerospace
Tampa Bay Campus – 2011
Michael B.
Cape Air
New England Campus – 2020