Career outlook is important, especially when considering a new field.
Are you thinking about becoming an Airframe and Powerplant (A&P) technician? If so, have you done your research? One major question you may want to ask is: are A&P mechanics in demand? The simple answer is yes! Developments in aviation, new technologies, and mechanic retirements have made this the ideal time to train for a career in aviation maintenance. Companies are looking to fill roles nationally, and across the globe, as quickly as possible. A&P licenses also never expire. Training and certifications are investments that will last the duration of your career.
Boeing Forecast
Boeing, the largest aircraft manufacturer in the world, forecasts that 769,000 new maintenance technicians will be needed to maintain the world's fleet over the next 20 years. According to Boeing's 2019 Boeing Pilot & Technician Outlook, advancement in technology and equipment will drive demand for more A&P mechanics. This, coupled with older A&P mechanics beginning to retire, will ensure A&P mechanic demand long into the future.
Retirement Pipeline
Like any other industry, older aviation mechanics retire and new talent comes along to replace them. To your advantage, veteran workers are currently retiring quicker than they can be replaced. Aviation Technician Education Council (ATEC) has reported that about 30% of aircraft mechanics are at or near retirement age. The Federal Aviation Administration (FAA) requires that A&Ps-to-be gain hands-on experience and pass examinations. You can meet these requirements is by training at an FAA-approved aviation maintenance technician school, such as National Aviation Academy (NAA).
Avionics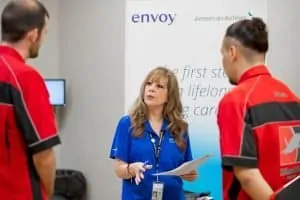 Avionics is an increasingly important component of an aviation maintenance education. The reason? The future needs of the industry are relying on evolving technologies. Modern aircraft are becoming more complex and are equipped with highly-integrated electrical systems that must operate safely and effectively. In order to maintain these modern aircraft, incoming A&P licensed technicians require a higher level of training to perform scheduled maintenance, repairs, and complete inspections.
Are A&P Mechanics in Demand?
There's no question about it, demand is high for A&P mechanics. With NAA training and our career placement assistance, there are plenty of opportunities to land your career. With older mechanics preparing to retire, more and more positions are opening up in the industry. The time is now to get into a long-lasting career!
TECHNICIANS NEEDED WORLDWIDE ACCORDING TO BOEING'S PILOT AND TECHNICIAN OUTLOOK 2019-2038*
WORKFORCE THAT IS AT OR NEAR RETIREMENT AGE ACCORDING TO ATEC**
Tampa Bay
6225 Ulmerton Rd.
Clearwater, FL 33760
Phone: 1-800-659-2080
Fax: 1-727-535-8727
Month ACCELERATED Training Program
New England
130 Baker Ave. Ext.
Concord, MA 01742
Phone: 1-800-292-3228
Fax: 1-781-274-8490
Tampa Bay
6225 Ulmerton Rd.
Clearwater, FL 33760
Phone: 1-800-659-2080
Fax: 1-727-535-8727