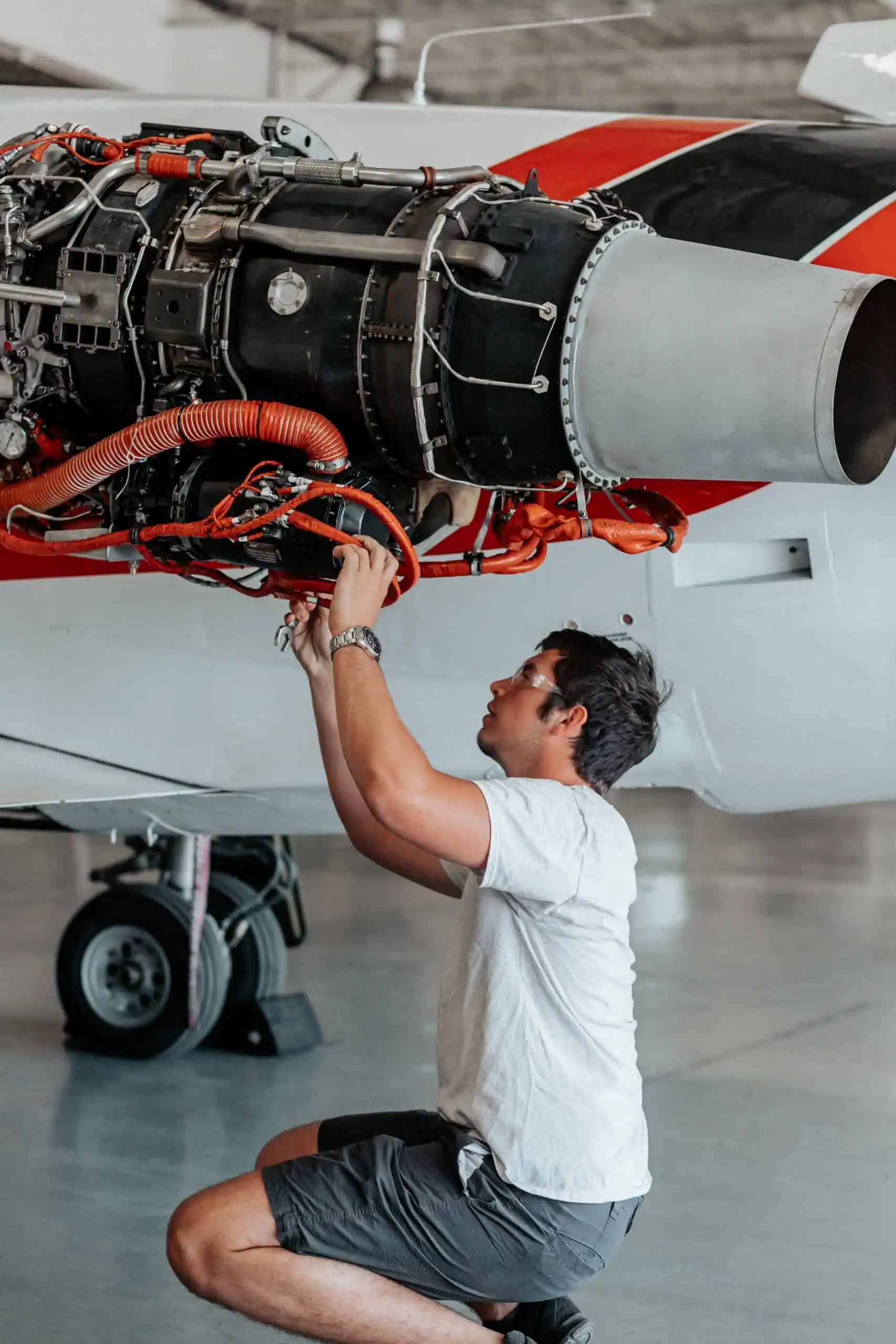 National Skilled Trades Day: Why Should You Train for a Trade?
National Skilled Trades Day is observed on the first Wednesday in May. Established to raise awareness about the value of the skilled trades workforce in the United States and honor skilled trades workers, it's an important day for those of us in aviation maintenance and other hands-on fields.
Keep reading to learn why skilled trades are increasingly relevant, rewarding, and why you should consider making them part of your plan for the future.
​
National Skilled Trades Day
​
National Skilled Trades Day recognizes and honors the hardworking individuals who have chosen to pursue a career in the skilled trades.
Hands-on trades are an essential part of our economy, and the people who work in these fields play a vital role in keeping our communities running smoothly. Skilled tradespeople are responsible for how our world works. These are the individuals we call to fix, construct, and care for 'you name it'… plus so much more!
One of the reasons this day was established was to bring awareness that in many skilled trades, there are more jobs available than workers trained. This could mean tremendous opportunity for you – especially regarding aviation maintenance! National Aviation Academy (NAA) focuses exclusively on aviation maintenance training because of the incredible skills and careers it offers hands-on individuals.
​
Aviation Maintenance: a Trade for Your Future
​
Aviation maintenance technicians, or AMTs, play a critical role in ensuring the safety and reliability of aircraft. Their primary responsibility is to inspect, maintain, and repair aircraft to ensure that they are operating at peak performance and in compliance with all safety regulations. This is exactly the kind of work that National Skilled Trades Day celebrates and encourages.
The work of an AMT is essential to the aviation industry. Without adequately maintained aircraft, the safety of passengers and crew members would be at risk. Additionally, the aviation industry would be unable to operate efficiently and effectively without the skills and expertise of these highly-sought technicians.
AMTs are responsible for a wide range of tasks, including performing routine inspections, diagnosing and repairing mechanical or electrical problems, replacing worn or damaged parts, and ensuring that all systems and components function properly. They use a variety of specialized tools and equipment to perform their work, and they must be knowledgeable about the specific requirements and regulations that apply to different types of aircraft.
​
Why Should You Train for a Trade?
​
There are several compelling reasons to train for a skilled trade, particularly aviation maintenance:
The demand is real: Skilled trades are in high demand in many industries, including aviation. As older workers retire, there is a growing need for new skilled workers to take their place. This means that there are often many job openings available for those with the right training and experience. Boeing has forecasted that 610,000 new AMTs will be needed by 2041.
Job security: Skilled trades offer job security, as these jobs cannot be outsourced or automated. Skilled workers are essential to build and maintain infrastructure, vehicles, and other essential goods. In aviation maintenance, aircraft are built, serviced, and maintained by the hands of highly-skilled and in-demand technicians.
Value: Many skilled trades offer good pay, even for entry-level positions. With experience and additional training, workers in skilled trades can earn even higher salaries. This can provide a comfortable living and opportunities for financial stability. Use bls.gov to see how the salary of aviation maintenance techs stacks up compared to other careers.
Opportunity for creativity: Skilled trades can offer the chance to work with your hands and be creative, designing and building things that are both functional and aesthetically pleasing. National Aviation Academy's aviation maintenance program offers specific areas where your creativity can shine, such as sheet metal aircraft finishings.
An investment in your future: As a trained technician, you can set yourself up to be more skilled and sought after professionally. Airframe and Powerplant (A&P) mechanics are essential to aviation maintenance, but places like theme parks, alternative energy solutions, Formula 1, and more also seek these skills. Your training may also apply to many areas of your life. Not only will your practical experience apply to your chosen profession, but you can be better equipped to problem solve and apply your skills in daily life. These are lifelong skills that truly offer limitless opportunities.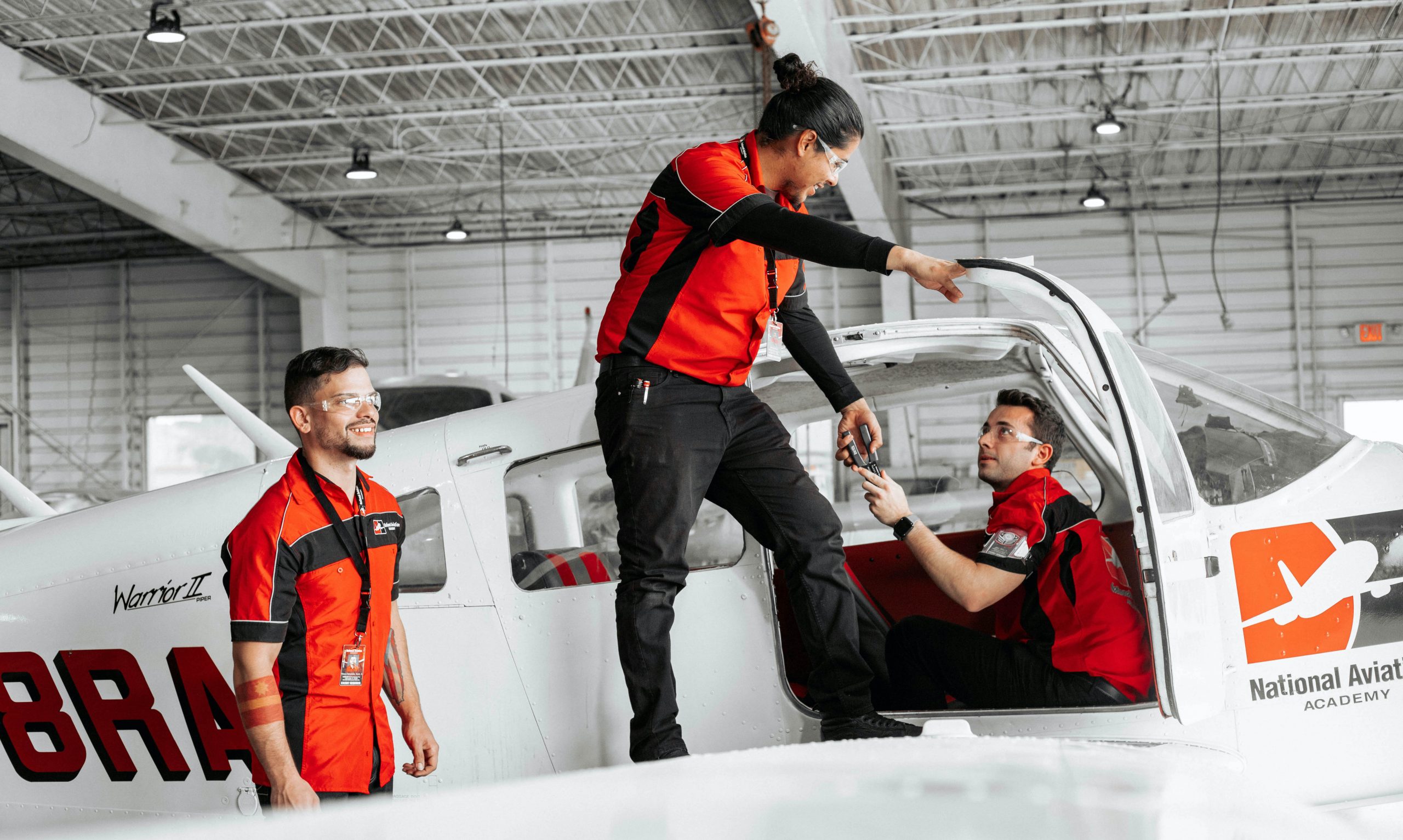 Ready to start your career in a skilled trade? NAA training might be just what you need!
If you're ready to take the first step towards a career as a skilled trade professional, NAA is enrolling now! You can complete training and get your career started in as little as 14 months!
NAA's aviation maintenance training offers access to rewarding careers in aviation maintenance, even if an individual has no prior hands-on experience – the curriculum pairs with career-focused, practical experience with the industry's requirements in mind. Recent graduates have gone on to positions with exciting employers from Boeing to SpaceX, with them and other industry-leading companies having recruited onsite at NAA Career Fairs routinely. For more information on how to apply, fill out the form below!